Greetings ladies and gentleman. My name is Nulla and I will now be starting a new series called, "
Fun Time w/ Nulla
." :~D
Throughout the series I will share and post my adventures on Dueling Network. They will most likely be encounters with noobs or when I happen to embarrass a deserving person.
So without further procrastination let me start the introduction with this victim:
Shinnzo
Mr.Shinnzo believed himself to be the very best, in fact he was quite cocky with it as well.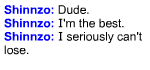 But yeah.. it didn't really end well for Mr.Shinnzo. He seemed to be running a continuous trap card deck. I assumed he was running the Sacred Beast monster that worked with them but of course, he never got to it. At a time I thought he was running Exodia because of the amount of stalling he was doing lol. But of course my Spellbooks were able to dodge around it and welp, here is the result:
So, let us all take some time to send our silent prayers to the fallen Shinnzo.
May he rest in peace.
~